Dr. Mark Light
Dr. Mark Light's practice of podiatry is East Cobb Foot and Ankle Care. He has practiced in the Atlanta metropolitan area for many years and has worked with the team since their move to Gwinnett. He is originally from outside the Buffalo New York area. He is a graduate of Emory University, went to Chicago for his Podiatric Medical Education and completed a surgical residency program in Detroit, Michigan. He is Board Certified in both foot and ankle surgery. He has extensive training in all aspects of the medical and surgical treatment of foot and ankle conditions and treats all age groups from infants to senior adults. Areas of interest for Dr. Light include sports medicine, surgery, and quality and gentle care of the foot and ankle. An avid sports fan, he has personally participated in many sports and has had season tickets to many of the local sports teams. His resides in Marietta with his wife and 2 children.
For more details click here...
---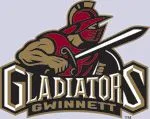 Dr. Mark Light was the official podiatrist for the
Gwinnett Gladiators hockey team.
---